Description
New Year's Eve Musical Party at Budapest Marriott Hotel, in the Grand Budapest ballroom       
on 31st December, 2019
Pretty dancers, fancy dresses, spectacular show, stars singers and a fantastic band – the program starts in the evening, the guest dance until dawn.
Four course special Gala Dinner followed by a midnight snack. Welcome and midnight champagne, a cocktail bar serving everything from whisky to mineral water free of charge all night. Every year we welcome guests to the event from 15-25 countries in the exclusive ball room of the five star hotel. Behind the gigantic glass wall of the ball room the view of the river Danube and the panorama of the Buda Castle, part of UNESCO World Heritage make this night unforgettable. Our prices include all the services and taxes
Programme (may be broadened and altered)
New Year's Eve Musical Party
on 31st December, 2019
in the Grand Budapest Ballroom of the Budapest Marriott Hotel (on the first floor)
Address: 4. Apáczai Csere János Street, Budapest 1052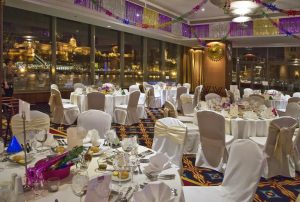 Opening the gates at: 19:45
Welcome drink
New Year's Eve Gala Dinner: 20:00 – 22:30 (you can get informed about the different courses under the Menu point called Gala Dinner
Dancing 21:30
Musical programme: 23:00
Cheerng for the New Year with champagne
New Year's snacks
Closing time: 04:00 a.m.
Cocktail Bar: 21:00 – 04:00 Unlimited consumption of all kinds of drinks provided for free! (All types of drinks with or without alcohol are listed in detail under the menu point called 'Gala Dinner'.
The Diva of the Night: Évi Sári. Our Star Guest: Krisztián Károlyi.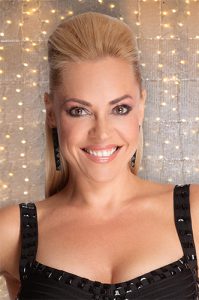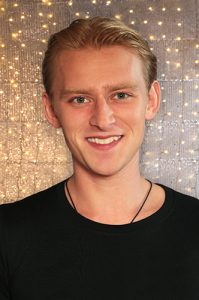 Évi Sári – There are excellent singers and actors and there are performers who have some additional plus.  In case of Évi Sári, her personality and her charm is the plus making her a star singer in the leading roles of numerous musicals; Mamma Mia, We Will Rock You, Chess, Vampire Ball, Sister Act, etc.
Krisztián Károlyi – It would be hard to enumerate all he roles, leading parts played and sung by the young tenor, Krisztián Károlyi, be that pop, rock, or musical.  His range of voice is extremely wide and we are sure that our guests will appreciate his talent.
The dance ensemble: Budapest Dance Art Studio ("Budapest Táncművészeti Stúdió" – BTS)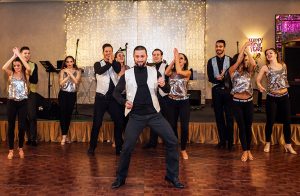 We have been cooperating with the Studio's dancers for five years. Why do we hold on to them?  Because the audience loves the spectacular show and they are very good at it.  (Choreographer:  Péter Bogdán)
The music band: ZERO Music Band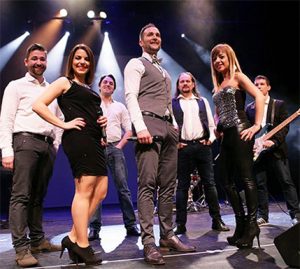 The Zero Music Band has been entertaining for many years the international and domestic audience with their repertoire from retro to international hits.
TICKET PRICE includes all services of the ball, the entire food and drink supply, the participation in programs and the VAT:
Ticket prices:
Adults: HUF 65 000 /person, or EUR 207 /person.
Child: 0 – 5 years: Free, HUF 0.
6 -13 years: HUF 33 000 /person, or EUR 103 / person.
14 -17 years: HUF 55 000 /person, or EUR 175 / person. 
From 18 years: HUF 65 000 /person, or EUR 207 / person.
VIP tickets: HUF 75 000/person (adult or child) or EUR 239 / person.
VIP tables: right around the dance floor.
VIP tickets are not available. Sold out.
The organizer of "New Year's Eve Musical Party" Musical Szilveszter (information, ticket sales and collection of tickets):
Rózsa PR Ügynökség Kft. (Rózsa PR Agency Ltd.)
Office and mailing address: H-1066 Budapest, Teréz krt. 38.
Cell phone: 00 36 30 948 9638
E-mail: media@rozsapr.hu
www.musicalszilveszter.hu
New Year's Eve Musical Party – Musical Szilveszter
on 31st December, 2019
in the Grand Budapest Ballroom of the Budapest Marriott Hotel (on the first floor)
Address: 4. Apáczai Csere János Street, Budapest 1052
You can have your tickets upon paying them in cash or following the receipt of your bank transfer by our bank, 1., or 2.:
1. You can take over your ticket on 31. December 2019 from 19:30 at the ballroom entrance of the Budapest Marriott Hotel. In that case please bring with you the transcript of the bank transfer and the invoice made out by us. The hostess of the event will present you the original copy of the invoice and the tickets. New Year's Eve Musical Party on 31. December 2019, in the Ballroom on the first floor of the Budapest Marriott Hotel (Address: 1052 Budapest, Apáczai Csere János Street 4.)
or,
2. Between 2 p.m. and 6 p.m. on week days (till 10th December 2019.) in the office of the organiser of the of the New Year's Eve Musical Party the Agency "Rózsa PR Ügynökség Kft.", Address/Office :, 38 Teréz krt. 1066 Budapest. Hungary. Mobile: 00 36 30 948 9638
The ticket is valid for one person's single entry to the New Year's Eve Musical Party. Purchase your ticket exclusively at official ticket offices, do not allow your ticket be photocopied or reproduced in some other way because forgery and use of forged tickets results in a procedure. Sorry, the replacement of lost, damaged tickets is not possible. By entering the Ball you automatically accept the general conditions stipulated in the present information. Everybody attends the Ball on his/her own responsibility. The Organizer of the Event does not take any responsibility for the damages due to the irresponsible behaviour of the guests. Intoxicated people with or without an admission ticket are not allowed to attend the Event and are not to be paid any compensation by the Organiser. The Event is a public event; photos taken, videos shot there can be published without any limitation, previous request and approval, and with the exclusion of privacy related or financial claims. The audio and video recordings may show any of the guests and they cannot put a claim for anything from the Organiser, Director, from those doing the recording or the legal users of the recordings. The Organiser of the Event reserves the right to change the program of the event. In case of cancellation of the event the tickets can be returned at a place and with a limitation period stipulated by the Event Organiser. In no other cases the tickets can be returned or changed. For more details concerning ticket returning please visit the web sites of the Event Organiser: www.musicalszilveszter.hu   www.rozsapr.hu 
In addition to returning the price of the ticket no other claims and requests for damages, or compensation can be accepted by the Event Organiser, or by the ticket office. The Budapest Marriott Hotel, hosting the event is responsible for the coats left in the cloak room only. You can leave your valuables at the hotel reception in a safe. Minors under 18 years of age must be accompanied by parents or a responsible adult!
The ballroom is furnished with round tables for 10 each. If the ticket buyer does not require all the ten seats, we will sell the free seats around the table to other guests. The number on your ticket is the number of the table reserved for you. There are no reserved seats at the tables, please take them on a "first come first served" basis.
The free cocktail bar starts at 21:00. Wines, mineral water, and other non-alcoholic beverages are served free of charge during the whole event, the New Year's Eve Musical Party. If you wish to order something else please pay the price shown on the drink card of the hotel.
The organiser of the New Year's Eve Musical Party (information, tickets booking):
Rózsa PR Ügynökség Kft. (Rózsa PR Agency Ltd.)
Office and mailing address: H-1066 Budapest, Teréz krt. 38.
Cell phone: 00 36 30 948 9638
E-mail: media@rozsapr.hu
www.musicalszilveszter.hu